Hey! Here I am with a new blog! After having so much work with my own domain/server I just gave up of it but of course I started to missing a place where I can post my new products, freebies, challenges, etc. for you! That's my intention with this new blog... I want you all to participate and enjoy this place with me!
Now let's see the news at the
Shoppe
for this week!
First, I have a new
ExtraOrdinary
kit that I had so much fun designing and I also totally love these colors! It is super fun and versatile and you will love playing with this *extraordinary* kit!
Inspiration
I also added these two products at store!
Be Awesome Add On
coordinates with
Be Awesome Bundle
and it was a freebie in the past and the
Basics - Tapes & Stitches
is the perfect addition to your projects and pages!
Plus I also have new kits at the
Bargain Bites
Category in the Shoppe and it means they are 40% OFF!! :)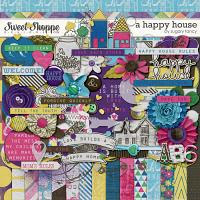 Well that's all for this post! I promiss to be back soon with more news for you!
Thank you so much for all of your support! xo